i'm tanned and i'm proud
written on

Friday, 27 April 2007 @ 2:07 pm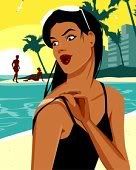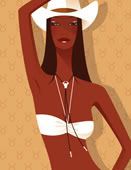 I was inspired by the song of the late Mr. James Brown
Say It Loud, I'm Black and I'm Proud
to come to think of it. It's not about being a black person as in a race, I dont want to be racist. I'm not racist. *lol* I want to write about how people are more concerned for lighter-skinned person. Especially on the environment and community around me.
First of all, I just can't stop wonder how do the community have the mind template that the lighter the better? Are they even more presentable, neat, and representative?
NO!
We, the not-so-light-skinned people are also neat and presentable, also representative. That is
sehr
ridiculous!
Secondly, some my fellow archaeology students do have lighter skin than I do. Well, I'm sure they're proud of that and wanting to protect it for overly exposed to sunlight. I have no problem with that. But whenever they started to whining and worrying about how sunlight might damage the
beauty
of their skin into my ears -
grrrr
that would surely pisses me off. Some cases ever happened to me, actually - and I asked them,
"what is actually your intention enrolling in archaeology if you really bother the sunlight?"
Enrolling in archaeology is never easy. Yep! Those who ever thought that archaeology is not a science, then you're wrong! Archaeology is all about science. If it's not then the Greek word of
logos
wouldn't be forming the word archaeology, right? *winks* We have two labs. On the field and behind the desk. Neither of it was easy. Well, only behind the desk you wouldn't have to deal with the sunlight. *haha* It was also never easy to cope with the changing environment of excavation. Different food, different people, and different weather. You canNOT choose which field you want to excavate on. Especially, if you're a student or only an undergraduate bachelor. Plus - you also canNOT choose the field with less exposure of sunlight when you're assigned to do some excavation. So, deal with the sunlight or get outta here, before you hurt my ears [and some other who thinks like me] and then make me hurt you, too! *grrrr*
Girls.... for field people like us, it's very improper to travel heavy with all the clothes, make-ups, sunscreen bottles, hats, and everything that you wanna take out with you to the field. Please, do learn something from our trips, that you can really travel light! I know that over exposure of sunlight can cause skin cancer, but only if it's over time. How many times would you be in an excavation, anyway? Not everyday!
Zum Schluss
, there's NOTHING wrong being a little bit sun tanned. Me? Oh, damn! If you ever meet me, I will show you the color difference between my arms and my hands. My feet and my face. I am NOT ashamed of that. I am proud to be sun-tanned. This color tells a story of my whereabouts, what I have been doing, and how long I have been exposed under sunlight. *laughs* Bear with it, cope with it, deal with it. You're an archaeologist-to-be for God's sake!
So, chin up, boobs out, it's showtime!* Say it loud, you're tanned and you're proud! ;)
p.s. * from
Connie and Carla
back to top