muter waktu
written on

Wednesday, 6 May 2009 @ 9:58 pm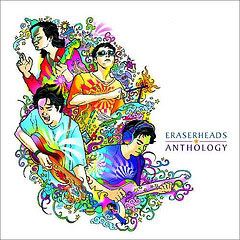 ih mungkin gak sih?
2 hari blakangan ini gw lagi terngiang2 dan lalu muter
Ang Huling el Bimbo
-nya
Eraserheads
dari jaman jebot. Lagu ini umurnya sejebot tahun 1995... which is what? 14 years ago! and I still remember every word in the song.. gw bahkan masi inget videoklipnya ky apa. hwahaha.. sintiang...
itu dia, skrg pun lagi dengerin niy lagu. Kalau lagi dengerin this particular song, gw pengen deh balik ke taun 1995, saat gw masi jingkrak2 liat Sarah Sechan dan Jamie Aditya di MTV... kalo ngga salah itu juga udah bukan jamannya Nadya Hutagalung. Masi suka nontonin MTV Viewer's Choice (dan menyaksikan Eraserheads menang! - 1997) Awards. Jaman2nya gw masi tinggal di Palembang, masi aktip banget Pramuka, suka brantem ama Oppie, hihihi.... masih suka fail fisika, matematika, kimia, biologi. Hahahaha... aduh aduh... kok jadi buka aib ya?

Ang Huling El Bimbo - FILharmoniKA Feat. Ely Buendia

versi laen (baru)nya niy lagu, tapi yang nyanyi tetep si Abang Ely Buendia, which is what important!
tapi seriously, this song puts me back in the timeline where I absolutely enjoyed my life -- as a kid. Heck, emangnya gw dulu blajar Tagalog? Kagak, tapi ternyata insting musik gw berkata bahwa lagu ini akan
tahan lama
yang mana pada akhirnya, skrg, saat gw merantau di negeri orang, lagu ini selalu di dalam playlist gw (baik di iPod/iTunes, imeem, iLike, ato pun playlist Winamp gw) dan selalu di nomer2 atas. Yap, ini lagu sakti gw! whoo hooo....!! dan hari ini, lagu ini terdengar makin cantik
Setelah lagu ini kemudian muncullah
Julie Tearjerky
dan
Balikbayan Box
atau
Fruitcake
dan
Fruit Fairy
. Mungkin kronologisnya kebalik ya? Gw ngga sempet tau yang mana duluan yang keluar, tapi lagu pertama mereka yang gw denger adh
Ang Huling el Bimbo
.
Oh! Oh! Satu lagu lagi yang selalu dapat mengangkat semangat gw, yaitu (yah juga Eraserheads lahhhh - wong topiknya itu kok!!!)
With a Smile
. Huwaaahh... lagu ini sama jebotnya dengan lagu2 yang laen.... tapi gw inget saat2 gw pen nangis pas ngerjain skripsi, kalo di mobil gw dengerinnya lagu ini, rasanya kok ya ngadep mas Cecep (yang waktu itu jadi pembaca gw) rada lebih 'santai' (nggak deg2an - meskipun tetep dodol juga gw kalo ditanyain dia... hihi salah saya, mas. Bukan salah anda.

).
haakkh, banyaknya kenang2an dengan lagu2 jebot jaman akyu masiy mudaaa.. hihihi... gosh, 14 years ago! i wouldn't thought i would be lying in my OTHER bed now. Tsk! Ih, gw juga inget... waktu itu shampoo gw masi P*nt*n* (ngga bole nyebut produk ya? hihihi) hahahaha.. dan gw sangat amat fanatik ama shampoo itu! Ada ngga ya di sini.. berhubung shampoo dah abis, kali2 aja bisa gw beli sambil nostalgia..... jadi, emang dari dulu gw sdh berkenalan dengan musik2 seperti itu, tanpa ada *pengaruh* lain dari luar. its purely musical. got it? good!!!
abis itu baru deh lirik2
Rivermaya
.... itu cerita
LAEN.
*singing* ...wag na init ulooooo baaayybeeee.......
back to top