Things About Ken Follett
written on

Sunday, 8 August 2010 @ 2:13 pm
What i like about Ken Follett's two series of Pillars of The Earth and World Without End is that these books could take me off of the reality that I am in and brought me to travel back in time to where sex is transparent but taboo, where women's gowns were sweeping off the dirt below, when horse is expensive and exclusive to certain class of peasants, when love potion is popular to be included to execute a relationship.
Reading Pillars of The Earth for the first time was no pain at all. I loved every page, quickly turning them to find out the conclusion of each chapters, which didn't exist, and cried or smiled or laughed at every scene described meticulously by this amazing writer. I know, I did not remember any characters within that book at this moment, there were plenty of them, but what amazed me was how he created so much character and still have a story for their lives. And the way he put the law of six degrees onto each character was really good. I just don't want to be the character on his writings. He tossed and turned the emotions of the characters as well as the readers, which is not cool, although it does make a good story. Ha..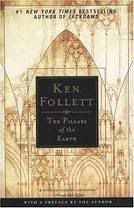 The same thing happened in World Without End, a book much much thicker than Pillars of The Earth and I only got to page 285. I already found tragedy, love, love potion, church building, conflicts within the monastery, the fall of Kingsbridge's bridge, etc. I was torn apart when Gwenda's father numerously tried to sell her for twelve shillings, which meant nothing today. I feel Gwenda's emotion on how she loved Wulfric who longed for Annet's heart instead, and how Gwenda sacrificed her physical effort to help on Wulfric's lands – because that's all she could do to love him. Ah, sad old days... I remembered my own sacrifices. But I didn't put any love potion onto my love-object's wine cup. Hahahaha.. Go, Gwenda!! I still have hundreds of pages more to read of this book, but I am pretty sure that I will enjoy every sentence, and I surrendered to the fates of the characters made by Ken Follett.
My favourite scene of all -- for the time being, from World Without End, was when Gwenda ran away from the guy who bought her, and when she went back to Kingsbridge, the bridge collapsed! The struggle of the people who walked on top of the bridge, waiting for their turn to enter the Fleece Fair, but were ill-fated to be the victims of the fall of the bridge... it was such an amazing descriptive scene. I adore how Ken Follett captured every emotions of the victims and whoever watches the collapsed bridge.
For the record, I already bought another book of Ken Follett: Hornet Flight, got into 25 first pages, and find it rather boring. Maybe because I jumped from the medieval times to when the Nazi was popular. Waaaay off the timeline. I will set aside Hornet Flight, and finished World Without End, and wait for Fall of Giants on September 2010.
Labels: reading
back to top