Warisan Budaya Bawah Air: Apakah Harus Dilelang?
written on

Wednesday, 4 August 2010 @ 7:05 pm
I went to the opening of an exhibition
Warisan Budaya Bawah Air: Apakah Harus Dilelang?
at the National Museum in Central Jakarta. I wasn't really paying attention to the seminars – as i did not participate and sit down and listened to the panellists. I went straight to the exhibition room. I was so curious about this exhibition, partly because of the woro-woro that was spread around before the D-Day. I was there and I was amused to see my favourite colour to be THE main colour of the exhibition, it's underwater archaeology themed – gonna be weird if they don't use gradations and hues of blue in it.
Note: This exhibition is made by my friends, so I will try to be subtle. Plus, I also didn't know how to make a good exhibition, this is NOT a professional critique, I am NOT a museologist or an exhibition executor, these are just what i have had in my mind when i entered the room and leave it, as a regular visitor with archaeological background. I have no intention whatsoever to degrade the hard work that had been put up to do make this exhibition happen. If anyone or party should think about it that way, I pity you for being unable to see this as a positive critiques and by God, I have all the rights to write a review as a visitor. Hahahaha.. There goes my disclaimer.
Presentation-wise, I was amused, it was cool and hip. The 'message' go to interactive sort of find its way to the visitors. They've got a snake&ladder game, they've got four television sets showing various shows about underwater archaeology in Indonesia and whatnot, they've got this cute panel for the visitors to leave their messages and hopes and opinion on should we or should we not sell our underwater treasures. I was so happy to see other type of exhibition other than bulks of statues and statuettes, huge junk of stone tools, or piles of phallic figures without proper captions and explanation which leaves me hanging to guess what they were. This was awesome exhibition! I love the colours, I love the set ups. They even got television sets that ACTUALLY WORKS!!! Yaaay!! That was awesome! Its near perfect. NEAR perfect, I say.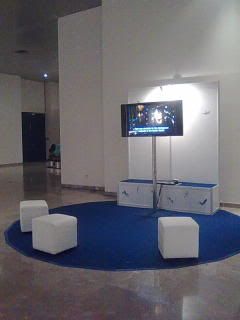 Since I stared on the first panel in the room, I noticed something was off. Way off.. no English captions for the panel that I was reading on. I gave it a chance and walked to the next panel, but found no traces of English or any other languages by any other names, then i started thinking and looked around. Two foreigners were standing on that first panel, maybe trying to read in Indonesian, or challenge themselves on their Bahasa Indonesia's ability. Then they decided to leave. I thought, 'OUCH!' That's it?? Wouldnt you be more interested to see whats left on the next room?? Crap! But I wasn't playing the guide-girl there, I was just another visitor, so i intend to just watch.
In my opinion, an exhibition – wherever that is, should be visitor-friendly. It means the executors have to be aware on what sort of people or segments that will go to this exhibition. This exhibition took place on the National Museum, which is a main destination for foreigners/travellers who came to visit Jakarta. 'Tis true that the exhibition was mainly dedicated to the Indonesian visitors to appreciate and understand more of our currently booming and on-the-trend underwater treasures, following the crazy auctions. 'Tis indeed true. But the executors should not also forget that EVERYONE comes to the museum, including foreigners who might not be speaking Bahasa Indonesia, or even KNOW any word in Bahasa Indonesia. These are also the people we must consider. Now I don't say that you should also present the captions in Vietnamese, Tagalog, German, or Greek. It's just simple English, an international lingua franca that almost everyone on this Earth speaks. I really think it's a HUGE mistake that this exhibition wasn't presented bilingually, if not multilingually. Oh, Dee.. they dont even bother translating the title of the exhibition in English!
I met my friend, Fina, whose booth was place on the very far corner of the room. I asked her if she got a lot of visitor to her booth, to watch the documentary on Cirebon's treasure, and she said, 'nobody came here!!' – half almost cried. And i think... yeah, no wonder..... the panels stopped far in the middle of the room and nothing that could 'escort' the visitors to her booth. Everybody tended to walk through to the other half of the exhibition and literally ignore Fina's booth. So there she was, sitting like a Cinderella to the fireplace, alone.
I was also wondering what was the huge diver picture doing in the corner of the room? It was more perfect as a room-separator or sketsel, I should say. Okay, maaaybee... it was there to give the impression of being underwater. It was a good picture, and i get the message – if that's the message, but what about everyone else? Do they think like me? Maybe not....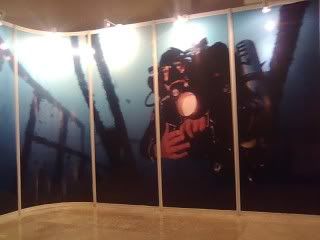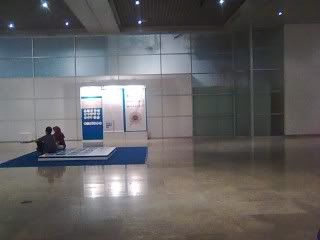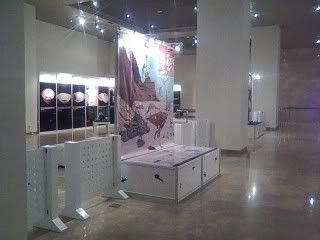 Overall, I loved the concept of this exhibition.. it was also awesome in presentation, it has an elegant atmosphere to it, although I think there were too few stuff that what I expected to see. Too many blank spaces on the exhibition and I was thinking that it would be more fun to see more things, to give visitors reasons to agree not to sell all of our underwater treasures. I get the message, I'm an archaeology graduate who care and understand the concept of auctioning and selling artifacts are some what dilemmatic. But what about visitors who doesn't come from the same background?
This exhibition is good to let the visitors know that we do appreciate the artifacts from under the sea and it should also explains what sort of information we can obtain from that, instead of just showing off the stuff that was buried under the sea. Yeah it was buried, lifted up, and was put on exhibitions, then what? In my humble opinion, the message of what we SHOULD do (sell or keep) with these artifacts doesnt really emerged to the surface. The presence of some captions in English would also let the foreign visitors know that we DO have something in the bottom of our sea (in case they didnt know yet...) and we DO appreciate things (so please stop stealing from us, Hatcher!) and that we intend to protect it with our laws (ummm... lets just think about it that way *sarcasm sarcasm*).
In conclusion: Do I adore the concept of the exhibition? YES, all the way, YES. Am I satisfied with the exhibition? Sorry, my fellows... not really. I hope I will not insult or hurt anyone with this entry. I just want to share what I have seen today. No one is to blame, we're all learning from this. Let's make a better exhibition next time! Great job, friends! It was a very meaningful visit for me.
back to top