oh wow... 6 months producing 4 scarves!! awesome. I have only 3 on pictures though. Sorry, I left the other one in my car, and I am too lazy to get it and take picture of it. LOL.
(Scarf One. Rainbow Checkerboard)
This is my FIRST EVER finished project since I started crocheting again. I loved how it turned out to be. I used cotton thread bought from my friend's mum who sells yarns and immediately picked this wonderful rainbow coloured ones. Working on the fringe? Hell yeah it's tedious! Haha, but it's awesome. Plus, it is very warm indeed to be worn. Perfect for rainy season (in the tropical belt) or autumny slash wintry season (in a more northern belt of the globe). Is it for sale? Hmm.. maybe. Check back with me.
***
The checkerboard scarves were done by using the basic pattern of multiple 5+3, dc in 4th ch, dc in the next 3 ch, ch 1, sk 1 ch, dc in the next 4ch. and so on and so on... for edging, oh please do get creative! You can shell it, and then fringe it, or you can just chain more to dangle the fringes, whatever, do what you like. :)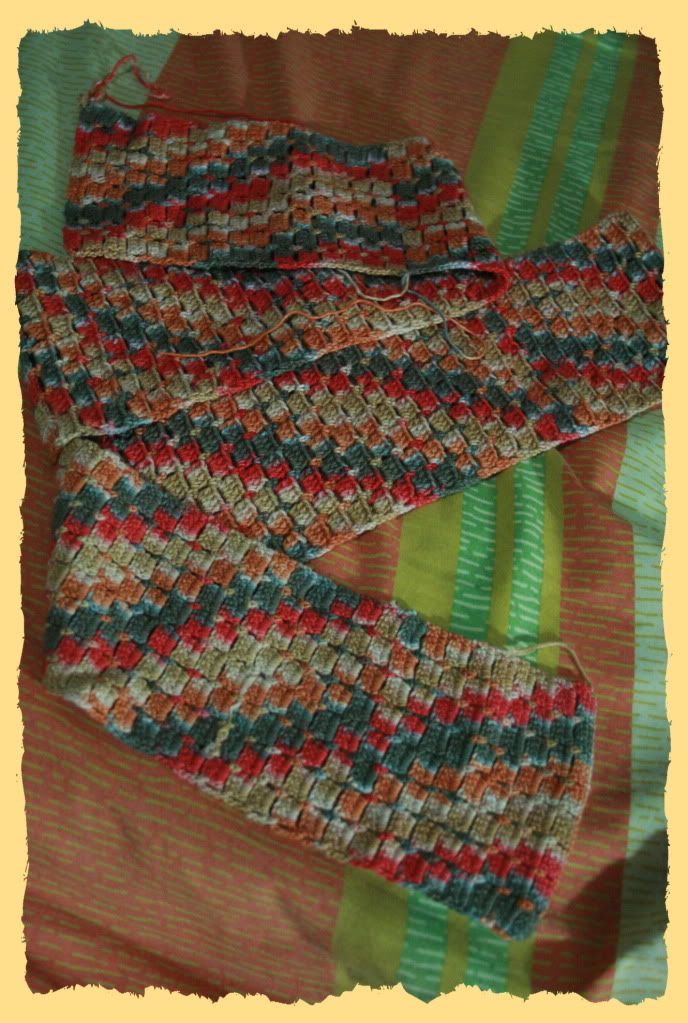 (Scarf Two. Autumn Checkerboard)
This one is DEFINITELY NOT FOR SALE. I am wearing them. LOL. I have not finished the fringing end of this scarf though, because I am running out of the yarn of the same colour. I gave one skein to a friend as a present. Don't worry, I can always shop.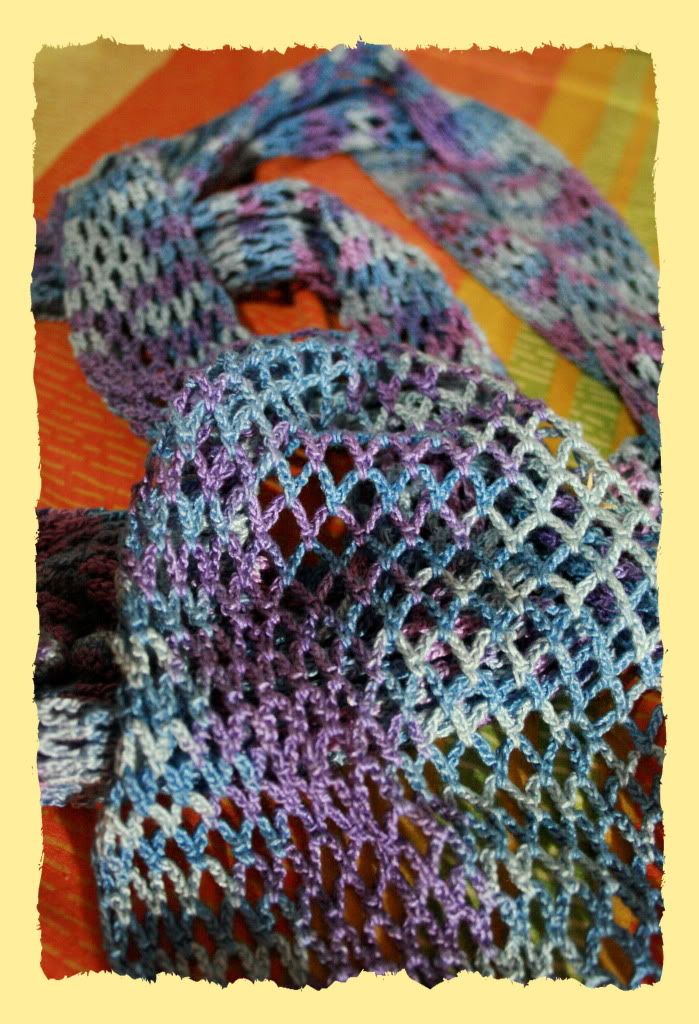 (Scarf Three. Purple Chains)
I used the most basic technique in crocheting to make this one: chaining. This is my technique-warm-up scarf, but in the end I finished this one last. LOL. Now that I am not confused any longer with the double-crochet or single-crochet or half-double-crochet, I am more hooked to double-crochet. I bought the yarn for this one in a craft store nearby my house. I loved the rayon,but it's waaaay too EXPENSIVE price for one skein, which got a carton in the middle of it. Yeeck! I'm never gonna buy on that place anymore. Lucky enough, they also don't have a lot of colour options. Not my loss. This one is NOT FOR SALE because I did some errors finishing it. One side of the end is not symmetrical to the other one. I like it though, and people hasn't been noticing it when I wear it.

Scarf Four is actually interesting as I was experimenting with shell motif and LOVED every minute working on it. But yeah, maybe I'll put up on this blog sometimes later, when I am not lazy enough to get that scarf from my car. LOL

TOODLES!!
xo. Dee